Trump says HB2 has caused 'unnecessary strife'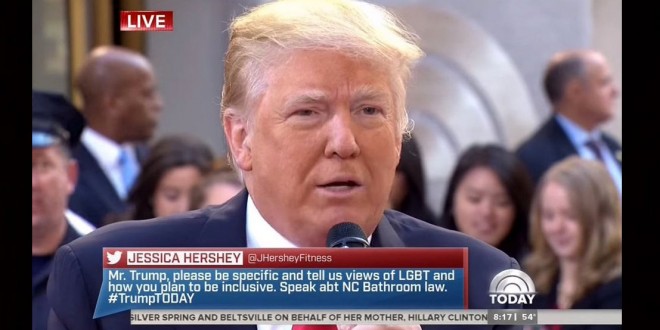 We've heard so much about proposed bills that would prevent transgendered individuals from using public bathroom facilities that correspond to their "current sex." The most common rationale for implementing these anti-LGBT laws is the concern that an adult male will enter the women's bathroom and attempt to sexually assault a young female.
Even Presidential Candidate Donald Trump has spoken out against North Carolina's controversial House Bill 2 law which includes anti-LGBT protections as well as other issues regarding minimum wage requirements for private employers.
So, what we have here is a problem no matter what your opinion is: There's the obvious anti-LGBT tone. Many would also agree that there is a violation of civil rights. Transgendered individuals are faced with more discrimination, fear, and uncertainty as to where they should go to relieve themselves.
Many would argue that most individuals utilize a public restroom because they really have to either defecate or urinate. Both men and women also are likely to use a public facility if they need to wash their hands or check their appearance.
The rationale behind House Bill 2 and similar bills is the irrational fear of a grown man (dressed in women's clothing) possibly sexually assaulting a young female (or female child).
Rather than discuss all the reasons for these irrational, illogical, and anti-LGBT bills, let's focus on a possible solution that would address this issue or "problem."
Has anyone thought about gender-neutral public facilities? Think about it. When we walk into a public restroom of most facilities, we often see a series of bathroom stalls. If you are in a men's public bathroom, there are also a series of urinals. In addition to stalls and urinals, we see a series of sinks and mirrors, soap dispensers, dryers or disposable hand towels.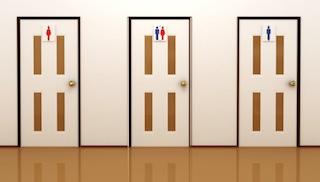 Well, instead of having a series of bathroom stalls, urinals, sinks, etc occupying a large space such as the quintessential public restroom, why not just create a series of individual, one-person, gender-neutral restrooms that lock from the inside?
Think about it? We're talking about peace of mind for all. Obviously, we cannot always agree on the various views (religious, political, personal, etc) but there is a way that could uphold a person's right to use a public restroom. I'm not a plumber or an architect, but this doesn't seem like a complicated project when considering how many public bathrooms are designed.
Obviously, price is always a concern so this would mean focusing more on function rather than aesthetics. Furthermore, the restroom facilities would need to be built based on current evidence-based guidelines with regard to public health and safety.
What do you think? Is this a viable solution that many states could implement? Any contractors/plumbers/architects, etc out there have any ideas of implementation?